Panama City Beach is one of the most attractive places on the East Coast, especially for those seeking sun, sand, and surf. While having a great time there is guaranteed, you should also explore other details to make your vacation even more pleasant.
In that matter, you should check out the best places where you can enjoy good meals. Here are some of the best options. 
1. Firefly
The location is one of the main benefits since it is in the center of Panama City Beach. Firefly is more than just a restaurant, it's an experience.
Known for its sushi and steak, this place offers a menu that's both diverse and exquisite. The ambiance will secure both sophistication and comfort, with dim lighting, plush seating, and a unique tree inside that adds a touch of nature. 
The sushi, prepared with the freshest ingredients, melts in your mouth, while the steak, cooked to perfection, is a treat for the taste buds. There is also a great wine list, ensuring that you find the perfect pairing for your meal.
2. Saltwater Grill
Saltwater Grill is a sanctuary for seafood enthusiasts. With a massive aquarium as the centerpiece, diners can enjoy their meal while watching exotic fish glide by. The menu offers a lot of fish ranging from tender scallops to flavorful grouper. 
Each dish is a masterpiece, crafted with care and precision. The grilled oysters, a house specialty, are a must-try. Drizzled with garlic butter and topped with Parmesan, they're a delight for the senses.
3. Runaway Island
This place offers a dining experience like no other. The two-level, beachfront establishment provides not just panoramic views but also a menu that's a blend of local flavors and international cuisines. 
Whether you're in the mood for a classic burger or a tropical shrimp salad, Runaway Island has got you covered. The beach bar, with its extensive cocktail menu, is the perfect place to unwind after a day in the sun. The 'Runaway Rum Punch', a blend of tropical juices and rum, is a crowd favorite.
4. David's Sno-balls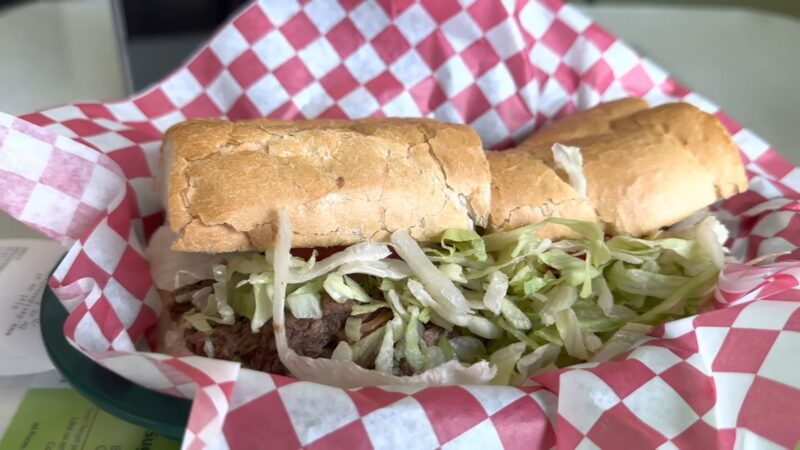 Bringing the flavors of New Orleans to Panama City Beach, David's Sno-balls is a quaint bistro that's perfect for breakfast or a midday snack. While the beignets, dusted with powdered sugar, are a sweet treat, the po'boys, stuffed with meat or seafood, are hearty and delicious. 
The café, with its vibrant décor and friendly staff, is bringing a unique sense of warmth, making it a favorite among both locals and tourists. Don't forget to try the fresh coffee, which provides the perfect pick-me-up.
5. Andy's Flour Power
If brunch is your favorite meal of the day, Andy's Flour Power is the place to be. With a menu that's a blend of classic dishes and innovative creations, there's something for everyone. 
The 'Crab Cake Benedict', with its perfectly poached eggs and flavorful crab cakes, is one of the best and most unique things found on the menu. The bakery section, with its array of pastries and bread, is a treat for the senses. The ambiance, with its colorful walls and rustic décor, adds to the overall experience.
6. Paula Deen's Family Kitchen
It represents a tribute to the rich culinary heritage of the South. Located at Pier Park, this restaurant offers diners a chance to indulge in authentic Southern cuisine in a setting that feels like home. 
The family-style servings ensure that you can sample a variety of dishes, from fried chicken to collard greens. The cornbread, served warm with a dollop of butter, is comfort food at its finest. 
The restaurant's interiors, with wooden beams and vintage decor, transport you to a Southern farmhouse. And no meal here is complete without trying their signature peach cobbler, a delightful end to a hearty meal.
7. Jesse's Place
Jesse's Place is a hidden gem that promises a dining experience like no other. The restaurant, with its attractive appearance and old-school charm, is bringing a special note and experience for guests. 
The menu represents a combination of traditional American dishes and modern creations, which means that it is perfect for any taste. The 'Classic Cheeseburger', with its juicy patty and fresh toppings, is a crowd favorite. 
The outdoor seating area, with its string lights and rustic furniture, is the perfect spot for a romantic dinner under the stars.
8. The Back Porch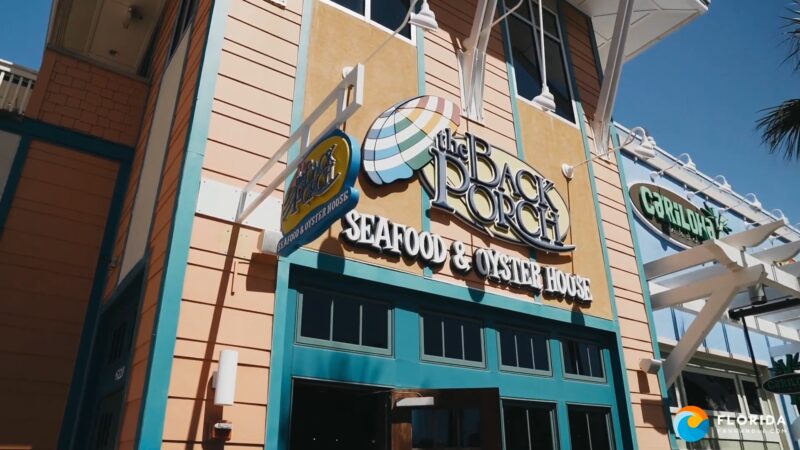 Situated on Front Beach Road, The Back Porch offers diners a chance to taste fresh seafood while enjoying breathtaking views of the sunset. The beach-themed decor and smooth vibe are one of the main reasons for such high popularity. 
Some of the most popular dishes are 'Grilled Mahi Mahi' and 'Lobster Tail'. Also, if you want to combine different types of seafood, our suggestion is to order the Seafood Platter.
9. Bayou Bill's Crab House
Bayou Bill's Crab House is a culinary tribute to Louisiana's rich heritage. With its rustic wooden interiors and lantern-lit ambiance, the restaurant evokes the charm of a Southern bayou. 
The menu is a celebration of Cajun cuisine, with dishes that are as flavorful as they are authentic. From spicy gumbo to succulent crab cakes, each dish is a testament to the restaurant's dedication to preserving the bayou's culinary traditions.
10. Dee's Hangout
Dee's Hangout is where the heart of the Deep South meets the spicy soul of the Delta. With walls adorned with vintage Southern memorabilia and a menu that seamlessly blends Southern classics with Cajun specialties, it's a gastronomic adventure waiting to be explored. 
Whether it's the tangy jambalaya or the comforting cornbread, Dee's Hangout promises a dining experience that's both nostalgic and modern.
11. Pompano Joe's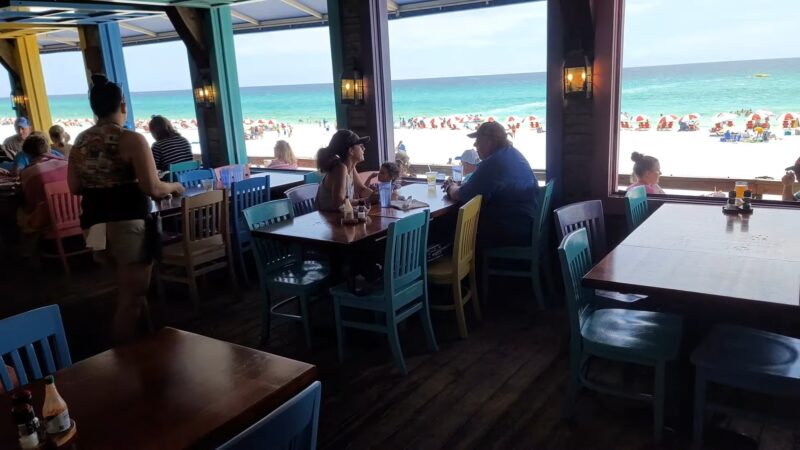 Pompano Joe's is not just a restaurant; it's a Caribbean escape right on the beach. With its vibrant turquoise decor, palm-thatched roofs, and a menu bursting with tropical flavors, it's a slice of island paradise. 
You can experiment with all kinds of various meals, like the zesty jerk chicken or refreshing coconut shrimp, and all the dishes are a sun-soaked journey through the Caribbean archipelago.
12. Hang Five Beach Bar
Hang Five Beach Bar and Grill captures the essence of beachside dining. With surfboards adorning the walls, sandy floors, and a menu that's as breezy as a coastal afternoon, it's the epitome of laid-back luxury. 
From sizzling steaks grilled to perfection to fresh seafood caught just off the coast, Hang Five offers a dining experience that's as refreshing as the ocean breeze.
Visitor's Top Picks
Checking the experience of other people is always a great way to find out more details and decide which of these places to visit first. Their ratings can be a valuable insight. Therefore, check out this table. 
| Rank | Restaurant Name | Description | Rating |
| --- | --- | --- | --- |
| 1 | Firefly | A renowned steakhouse with sushi bars and wine bars. Known for locally sourced ingredients and a gluten-free friendly menu. | 4.5 (2.5k reviews) |
| 2 | Runaway Island | A mix of seafood, bars, and traditional American dishes. Celebrated for its easy-going fine dining atmosphere. | 4.0 (1.8k reviews) |
| 3 | The Grand Marlin – Panama City Beach | Offers a blend of seafood, steakhouses, and new American dishes. Recognized for its beautiful fine dining setting. | 4.5 (610 reviews) |
| 4 | Saltwater Grill | A seafood and steakhouse restaurant. Known for its fine dining ambiance and diverse seafood menu. | 4.5 (2.4k reviews) |
| 5 | Restaurant Paradis | A blend of new American, seafood, and traditional American dishes. Celebrated for its top-notch fine dining experience. | 4.5 (424 reviews) |
FAQs
Are reservations required for these top fine dining restaurants in Panama City Beach?
While it's not mandatory to make reservations at all fine dining establishments in Panama City Beach, it's highly recommended, especially during peak tourist seasons or weekends, to ensure you get a table without a long wait.
Do these restaurants offer vegetarian or vegan options?
Yes, most top fine dining restaurants in Panama City Beach cater to a diverse clientele and typically offer vegetarian and often vegan options. However, it's always a good idea to check the menu in advance or call the restaurant to inquire about specific dietary accommodations.
Is there a dress code for these fine dining establishments?
While Panama City Beach has a relaxed beach vibe, some fine dining establishments might have a dress code, such as smart casual. It's advisable to check with the restaurant directly or visit their website for specific dress code guidelines.
Are these restaurants kid-friendly?
Many restaurants in Panama City Beach are family-friendly, but the ambiance of some fine dining establishments might be more suited for adults or older children. If planning to dine with young children, it's best to check with the restaurant about their child-friendly amenities or menu options.
Can I host private events or parties at these fine dining venues?
Many fine dining restaurants in Panama City Beach offer private dining areas or event spaces suitable for parties, celebrations, or corporate events. If you're interested in hosting an event, it's best to contact the restaurant directly to discuss availability, menu options, and any other specific requirements.
Summary
Fine dining in Panama City Beach offers a diverse culinary experience, from authentic Cajun flavors to tropical Caribbean delights. While some restaurants have a relaxed dress code reflecting the beach vibe, others may require smart casual attire. 
Many of these dining venues are family-friendly, but it's always good to check in advance, especially if dining with young children. That is the main reason why you should check some details before you make a reservation.